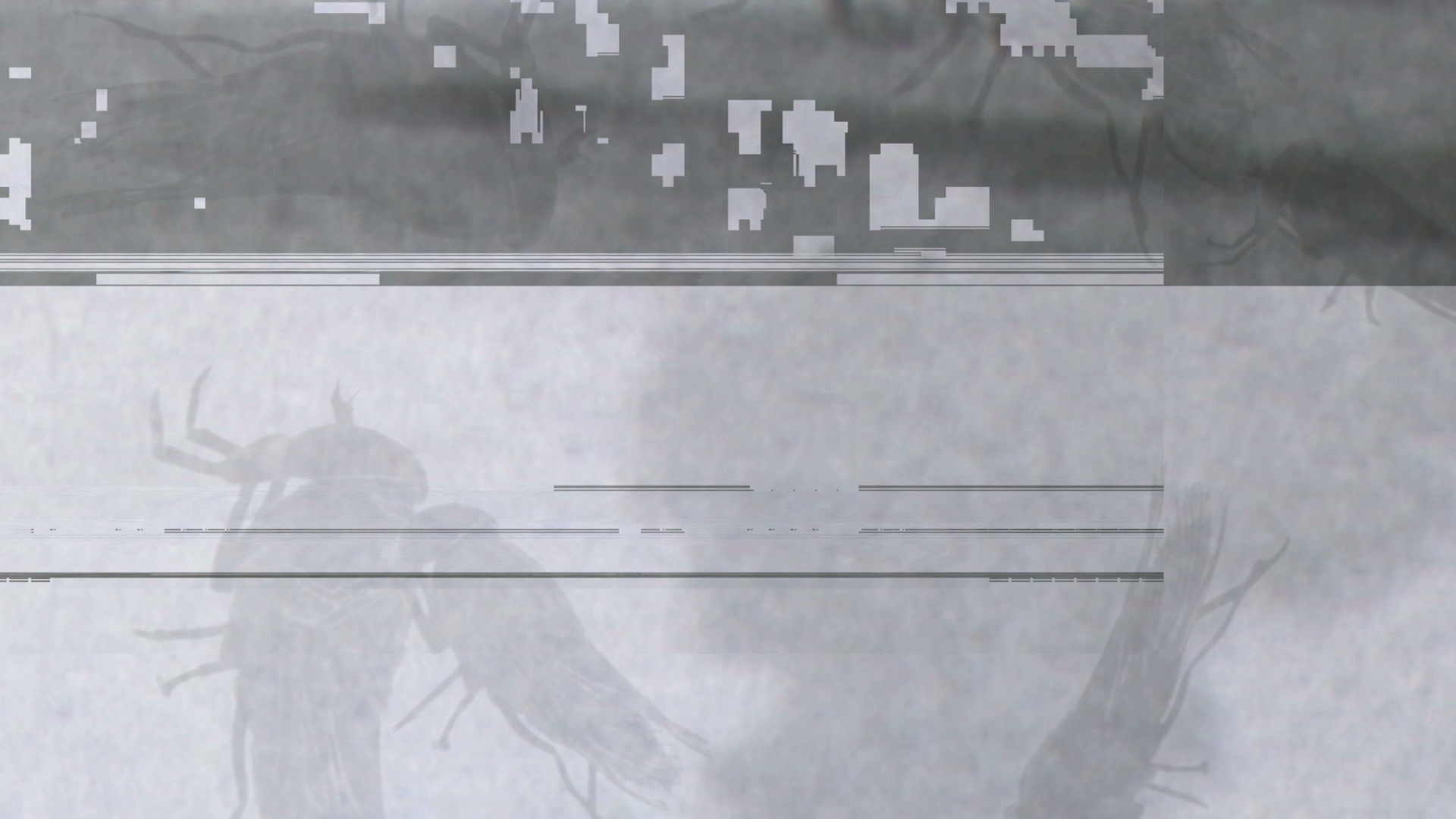 featuring:
Bordos
Daniela Imhoff
Mighty KongBot (Domenico Barra+Luigi Console)
Kitzinger Gabor+Alex Hamadey
Karl Erickson+Justin King
Visakh Menon+Heavy Birds
Nina Sobell+Laura Ortman
Jeremy Couillard+Dennis Vos
Curated by Leo Kuelbs
BOrdos
Underneath
visuals: Laszlo Zsolt Bordos / Bordos.ArtWorks
sound: 999 Moon Life by Drone Travolta
Underneath - is an abstract animation showing the construction of a 3d mesh as an analogy to the formation of crystals under microscopic view. The animation uses real images taken trough a microscope's lens, viewing the formation of different types of salt-crystals, witnessing the process of a fluid becoming a solid structure. The 3d mesh is generated by a fluid simulation and meshed with triangulated polygons is a digital replica of the solidification process. Underneath - created for the group exhibition called VIEWS, delivers the physically deepest point of view we can have on a phenomenon through a real and a virtual microscope layered together.
László Zsolt Bordos (also known as Bordos.ArtWorks) is a 3d artist living in Budapest, Hungary. In 2000 he started as a VJ, performing in the underground party culture of Budapest. With his early 3d-vjing (2001-2004), his participation to huge size architectural slide projections (2002-2005) and his outrageous video projections and 3d mapping projects (2006-2007), he became a pioneer of the genre. Cooperating with other artists since 2010, he started to run the projects under the name 'Bordos.ArtWorks and Invited Artists', which became internationally recognized as eminent representatives of video projection mapping. Since 2014 Bordos is focusing again on solo art projects, installations and scenery projections for theaters and operas.
http://bordos.eu, 3d@bordos.eu
Mighty Kongbot (Domenico Barra+Luigi Console)
Our Journey
"Continuing with this thought, we might picture the glitch artist to be an explorer. "Exploration is the act of searching or traveling a terrain (including space) for the purpose of the discovery of resources or information."* We are referring here primarily to physical space. "The term may also be used metaphorically, for example persons may speak of exploring the internet, sexuality, etc. In scientific research, exploration is one of three purposes of empirical research (the other two being description and explanation). Exploration is the attempt to develop an initial, rough understanding of some phenomenon."* In all these ways the glitch artist is like an explorer." Nick Briz
"This art practice is our journey. We are the digital travelers. We go strenuously in search of glitches, of noise, of experience. We make interesting things to happen. We have been strangers in a strange land. The soul of our journey is liberty, perfect liberty, to think, feel, do just as we please. The aim of our traveling is to enhance imagination over reality, and instead of seeing how things are, we want to make them as we wish them to be. Let us go abroad to a distant landscape. Imagination is a force that can actually manifest a reality. Failure is an option, we need its intrinsic potentialities and qualities. In art and exploration failure is an option.
We are not seeking for something that we have lost, we search for the unknown and the attainment brings to us greater happiness than the quest. We are curious men looking through a keyhole, the keyhole of digital nature, trying to know what's going on. We define our art practice as an exploration beyond accepted limits, then the nature of limiting systems becomes the first object of exploration. Equipped with our media, we explore the digital universe around us and we call our adventure Glitch Art. The human race is surrounded by a large area of unrealized possibilities, a challenge to the spirit of exploration."
Mighty Kongbot
The Mighty Kongbot is a being with the attitude of a gorilla and the intelligence of a robot, made by humans and shaped by media. Mighty Kongbot is kept alive by Luigi Console & Domenico Barra. mightykongbot.tumblr.com/
Luigi Console
Class 1986 from Ostuni – South Italy – Luigi Console studied Art direction at ILAS in Naples in 2007/2008 and then Visual Design at the Scuola Politecnica di Design in Milan in 2009/2010, even if he prefers refereeing to himself as a self-taught artist. Console matched work experience with creative studios and collaboration as a freelancer but, pushed by his curiosity, he explores the use of various media, from screen printing to creative coding, from analog media to digital media, targeting his research into the connection between the many visual communication techniques such as poster design and video mapping performance. He has co-founded and collaborated with the studio gloWArp.com, a studio focused on researching and application of video mapping in the field of augmented reality and taking part at many festival like Oddstream Festival (NL), FIMG in Spain, Chartres en Lumieres in France, before deciding to take a different path to explore new artistic fields. The artist is one of the curator of GLOWFestival /, an International Festival of video mapping indoor (http://www.glowfestival.it) – the first festival in the south of Italy dedicated to light and its artistic value applied on cultural heritage. Currently, he also teaches at workshops for video mapping and 3D printing.
Domenico Barra
DOM BARRA approached and started his practice in the field of visual art during his 7 years of living in England, also studying at the Leeds College of Art and Design. The perpetuating creative dialectic of D. Barra results in a constant research for innovative artistic results in matters of subjects and the ways that they can be depicted. Lately his main focus is glitch art with a focus on the practice of databending. His worsks are featured on various magazines, website and blogs such as Time Out New York, Interartive, 15Folds, M0N3Y AS AN 3RRROR | MON3Y.US, Electric Objects, Animal New York, Nerve, MashKulture, Detailverliebt, IndieNudes and d1Ɍ+y̶ ̶N̶3WWW_M3DI∆, a Tumblr that he also co-curate with Jon Cates + Shawné Michaelain Holloway. Barra has collaborated with New Hive for the project "Major Tendons" curated by Molly Soda. For this project the artist created a powerful gifwall to go with the music track "Remembrance" by American producer Suicideyear. D. Barra has exhibited in Italy and abroad his native country at international famous exhibitions such as the RE/Mixed Media Festival 2012 and 2014 in New York curated by Tom Tenney, The Cloud Makers and Open Tech: An Open Exhibition in Vancouver (Canada) curated by Erik H Zepka and also "The Wrong", the first Net and Digital Art Biennale. Barra is the curator and creator of the street art project "Wonderwall" and has collaborated at the making of the first group exhibition about glitch art in Italy, "Tactical Glitches", curated by Rosa Menkman and Nick Briz.
Jeremy Couillard+Dennis Vos
Shamanic Urban Planning
Shamanic Urban Planning - A lot of Internet conspiracy theorists write about American monumental architecture being stargates to outer reaches of our galaxy. What would it look like on the other side of these stargates? Who would be there to greet us when we pass through? Could we use these spaces to plan our own in more interesting ways? This video takes a trip through the other side of a stargate in Hart Plaza Detroit. Some of the monuments are seen in the background of a psychedelic, tropical landscape populated by amorous swamp monsters, plant-ballerinas and anxious shamans.
Jeremy Couillard (b. 1980, Livonia, Michigan) is an artist currently living in Brooklyn, New York. Couillard makes 3D animations, kinetic sculpture, 3D and 2D prints, paintings and installations. He has a BA from Michigan State University (2004) and an MFA from Columbia University (2012). Recent exhibitions include converting Louis B James Gallery in New York into an Out of Body Experience Clinic and a show called Believes in Reincarnation, Hates Hugs at Youngworld in Detroit in July, 2015. He is also a New Media professor in Queens, NY. Website is at: http://www.jeremycouillard.com
Dennis Vos (born in Rotterdam), was , from 1995-2007, a dnb dj under the name of Denny D,he was part of the Pressure Crew, played all over Holland including twice at Lowlands festival, and was resident in Nighttown,Waterfront,Off-Corso and Bootleg dj-cafe. In 2010 he moved to Berlin,works there as a chef and produces his own music.
https://soundcloud.com/dingemanberlin
Karl Erickson+Justin King
Time Travel Through Water
By entering the REPTILIAN BRAIN the aquatic casing can be contacted, thus connecting and conducting the BODIES and MINDS to and through the water that surrounds and makes up nearly ALL. This permeable membrane spans distance, yes, and time, allowing to be made faraway moments near, collapsing place upon place, moment on moment, each, like layers of pixelated light, ELECTRONICALLY CHARGED, and sculpted by the one before and after, above and below, time shaping space, space shaping time.
Karl Erickson makes art that moves toward an ecstatic utopian ideal by creating experiences of confusion and separation from conventional modes of seeing. In 2013 he was an artist in residence at The Arctic Circle and Lower Manhattan Cultural Council's Swing Space Residency on Governor's Island. Recent exhibitions include Monotonic Surfaces: An Account of the Arctic Regions" at Center for Strategic Art and Agriculture, "Andrew Falkowski and and Karl Erickson: Architecture and Morality" at the Suburban, Oak Park, IL, and "A Study in Midwestern Appropriation" at the Hyde Park Art Center, curated by Michelle Grabner.His videos have been in recent screenings as part of "Out to See" at New York's South Street Sea Port, at Creon Gallery in New York and Parsons Hall Project Space in Holyoke, MA. He has latest performance art works have taken place at Apexart, Kunsthalle Galapagos and Winter Shack (with Eric Lindley). He collaborates frequently with Andrew Falkowski on visual disorientating installations.
Erickson has curated exhibitions and projects at Torrance Art Museum, Dumbo Arts Center, Museum of Comic and Cartoon Art, Los Angeles Contemporary Exhibitions and other venues. With Leo Kuelbs, he has organized several traveling video exhibitions that have appeared in Los Angles, Brooklyn, Germany and Budapest. Erickson is currently working on a multi-part project titled "We Could Be Transcendent Apes." He received his MFA from California Institute of the Arts and his BFA from Wayne State University, Detroit, MI.
www.karlhugoerickson.com
Justin King (born June 13, 1979) is an American musician and artist from Eugene, Oregon, recognized as a pioneering guitarist for his percussive "tapping" playing style which consists of a variety of influences ranging from Flamenco to Celtic music. Currently, King is running a recording studio in Brooklyn, New York called Vinegar Hill Sound as well as doing part-time war photojournalism in places like Iraq and Afghanistan.
http://justinking.com/
Kitzinger Gabor+Alex Hamadey
V.I.E.W.S
Kitzinger Gábor was born in Budapest 1977. Between 1983 – 86 he lived in Oran Algeria. He went to high school to the Baktay Erwin Gimnasium in Dunaharaszti Hungary, and graduated in Atkinson County High School, Pearson Georgia in the USA. Gábor started his studies in the MOME (Hungarian Kraftarts University) in 2000, in 2003 spent a semester at the UDK university in Berlin and had his diploma at the MOME in visual communication at the video department. Since 2001 he has been vj-ing under the names of RioRokoko and Csontraketa. He is a member of the Kiégő Izzók (Glowing Bulbs) visual artist union since 2006. He is a founding member of the Omkamra art association (2009). Website: riorokoko.net.
Alex Hamadey is a Brooklyn based music producer and sound designer. He produces ambient, pop and house music under several different monikers and has worked with artists such as Azealia Banks, Com Truise, MANIK, Class Actress and Katy Perry. Alex approaches production with a very hands on method, using dozens of synthesizers, drum machines, samplers and effects to create layers of sounds both from the organic and synthesized sound spectrum. In addition to production, Alex co-runs two vinyl labels and composes for picture with Hyperballad music.
soundcloud.com/lindbergh-palace/azealia-banks-barely-legal
soundcloud.com/lindbergh-palace/rollerskater-on-upcoming-ep
soundcloud.com/cutmistake/b1-ooooo?in=cutmistake/sets/cmm0100
Daniela Imhoff
Fields
On a field in Russia, close to the city of Twer in 1942, you see five to eight german Wehrmacht soldiers, watching a battle and the explosions from a distance. The footage was shot on a Normal 8 camera by my grandfather, a field pharmacist. It is black and white, blurry, out of focus and dirty. How does past change the view? My urge for understanding WW2 as a German, went way past the framework of the material and I became deeply engaged with the whole subject matter. Behind that, the question of guilt, speculations about my grandfathers sentiments and political attitude, and how later generations were dealing with the subject, served as a driving force.
In "Fields" I mostly forgot about that. You see artificial colorful "planets", manipulated and overlapping pictures and hear sounds which are mostly dramatic, a mixup of female choir, medical sounds, fast speaking voices, drones etc. I didn't try to do justice to the material, it is the filtered and personal outcome of a study in past, material and empathy.
"Daniela Imhoff is a sound and media artist living and working in Berlin. She studied Jazz Drums and Film in Freiburg and Berlin. She holds an M.A. in Sound Studies and graduated from the Art and Media Program at the University of Arts Berlin. Maintaining a strongly personal focus throughout, her body of work comprises various forms of media-art, such as installations, music videos, sound sculptures, and audio-visual performances in collaborations with theater directors, musicians, and performers. Her work has been shown at Haus der Kulturen der Welt Berlin, Singuhr Hoergalerie Berlin, Platoon Kunsthalle Seoul, CTM-Festival Berlin, Expanded Music." -Hanns Eisler
As a drummer she performed at Berghain and Hau 1.
www.danielaimhoff.de
Visakh Menon+Heavy Birds
View 83
View 83 is a video collaboration between the band Heavy Birds and video artist Visakh Menon. Conceptually the video centers on the transformation & distortion of landscapes as seen in nature and those created via the digital realm. The viewing & recording of these landscapes through optical devices and screens, produces spatial and temporal distortions in light and perspective so as challenging our perception, memory and experience of the moments we witness in them. Visually the video is multi-layered non narrative journey across various national parks of America intermixed with motion graphics and sound reactive digital landscapes produced generatively with Processing Code.
Heavy Birds approached the music from various aspects or "views", concerning modern day recording. The initial step was recording organic instruments, including cello, guitar, organ, and drum, live, onto an Analog tape machine. The music was then mixed and reversed by utilizing Protools with another engineer. Finally, after a "thrown-out" version of a cassette transfer, the final track was re-mixed in Garageband, where a slight digital drum machine was added to aid the video visuals.
Credits:
Composed by Ryan Drag / Lia Mooney.
Performed by Ryan Drag (guitars),Lia Mooney (cello, organ), & Jim Laakso (percussion).
Recorded by Hugh Pool at Excello, and Rob Laakso at Vacation Island.
Mixed by R. Laakso & Heavy Birds.
Edits & re-mix for 'Views" project by Ryan Drag.
Video by Visakh Menon
Heavy Birds are a psychedelic-rock outfit from Brooklyn, that have released their music worldwide on various formats. Their discography currently includes the ambient LP "Pearl St." on the boutique label Mineral Tapes, a self-distributed 7" single, and their latest full-length "Drag" on limited ed. cassette and soon to be released on vinyl via Moon Records, as well as, having had their music included in independent films. Live they have been compared to such groups as the Velvet Underground and Spacemen 3, and labeled by the press as, "Drone-psych perfection" - CMJ. The composition "View 83" is an original piece specifically intended for the Leo Kelbs collection (the bands first art collaborative project), to accompany visual artist Visakh Menon's video piece.
www.heavybirds.bandcamp.com/, www.vimeo.com/heavybirds, www.facebook.com/heavybirdsband
Visakh Menon is a visual artist & art director from India currently based in New York. His interdisciplinary work spans sculptural installations, video / media art & works on paper. His recent body of work focuses on the creation of physical manifestations of digital artifacts and objects of fictionalized reverence, often born out of fascination for certain aspects of technology & human machine interaction.
Visakh has exhibited nationally and internationally including recent shows at the NY Film Fest at Lincoln Center, Filmgate Interactive (Miami), DUMBO arts festival, Fountain Art fair, Governor's Island Art Fair, Spattered Columns (NY), Paul Kolker Collection (NY), Gallery Aferro (NJ), Digital Media City Gallery (Seoul) and his works have been included in the Rhizome Art Base. He was selected for the Mentoring Fellowship for Immigrant Artists at New York Foundation for the Arts in 2010 (NYFA). In 2007 Visakh received an MFA in graphic design from the Maryland Institute College of Art (MICA)
www.visakhmeon.com, , @tapeglitch
Nina Sobell+Laura Ortman
WMAT
WMAT is a collaborative video with visuals by Nina Sobell and music by Laura Ortman. Views of dream, reality, earth, sky and in-between weave in unison, tracing the territory of the White Mountain Apache Tribe blending line, color and movement within a tapestry of sounds.
Nina Sobell pioneered the use of video, computers, and interactivity in art, as well as performance on the Web. Since 1969, when she first used video to document participants' undirected interactions with her sculptures, she investigates the extent to which video enables her to manipulate the relation between time and space, and to create a vortex for human experience, in which the mediated event coincides with public experience, memory and relationships. Groundbreaking projects include ParkBench and VirtuAlice, and the ongoing Interactive Encephalographic Brainwave Drawings.
Laura Ortman (White Mountain Apache) is a Brooklyn composer, musician, visual artist, and hairstylist. Currently, she is recording her third solo album with legendary Gowanus engineer Martin Bisi, playing violin, Apache violin, electric guitar, amplified piano, Casio, pedal steel guitar, vocals, samples and field recordings. She has collaborated musically with great artists, filmmakers, dancers and musicians from New York, New Mexico, Italy and Canada, including Jock Soto, Nanobah Becker, Raven Chacon, Martha Colburn, Tony Conrad, Pauline Oliveros, Okkyung Lee, Alan Michelson, Lorenzo Clayton, Brooke Swaney and Pegi Vail. She has performed and recorded with New York bands Stars Like Fleas, The Dust Dive, Family Dynamics, GON, Raft's Assemble, and White Hills. In the fall of 2014 she was awarded a five week Rauschenberg Residency for music in Captiva, Florida. In 2015 she was awarded a residency at IAIA's Museum of Contemporary Native Arts for art and music in Santa Fe, New Mexico. In 2008, she founded the Coast Orchestra, an all-Native American orchestral ensemble performing and improvising to the 1914 original score to photographer Edward Curtis's only film "In the Land of the Head Hunters" to sold-out audiences at the National Gallery of Art in Washington, D.C., and the American Museum of Natural History in New York.
http://thedustdiveflash.bandcamp.com/